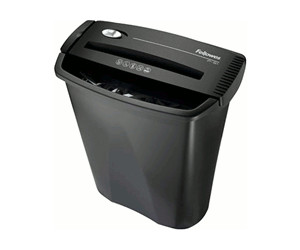 My Fellowes P-5S shredder is slightly different from the one pictured. Mine has a rectangular button and the shredder completely covers the bin. There is a little opening cut out of the front similar to the P-55c.
The price of the shredder was decent. It was about $25 on sale at Target. It is a 5 page shredder with with reverse. It has a notch on the bin that must line up with the shredder to prevent shredding when it is not on the bin and of course a reverse option.
Even though the price was decent, this shredder isn't worth the paper I shred. I spend more time unjamming the shredder than I spend shredding. Every single time I have used the shredder I have had to take a pair of needle nose pliers to it to pull out a shredded strip of paper that is only 3 pages thick. When I actually try to shred 5 pages as it boasts it can handle, it reduces speed and overheats. As a result, the shredder shuts off and I have to wait 30 minutes before I can use it again.
On the rare occasion when I shred only one piece of paper it doesn't jam, but it does shut down after about 2 minutes of shredding. If you are anything like me, you leave the shredder running while you open your mail and then shred as you go along. That would be a bad idea with this shredder. I have been in the middle of shredding a 15 page document, (should be relatively quick since this shredder is capable of handling 5 pages at a time), and found that the shredder shuts off after the first 5 pages. Then, you guessed it, I have to wait 30 minutes to use it again.
The bin should be taller. The shredder disposes the paper vertically until it curls up. This causes it to fill up quicker. You only have 2 minutes before the machine shuts off. But after about 30 seconds, you have to stop, empty the bin, reassemble the bin, clear any jams, turn the machine off and on a few times, then resume shredding. I could chop up a stack of checks by hand quicker than this shredder could shred them.
This is definitely something you should not buy. Perhaps a different brand.