Dreft Stain Remover
I used this on a 4 1/2 year old formula stain and it came right out. I tried every stain remover when the stain was created to no avail. This one did it immediately. A little goes a long way. I paid $3 for a 16.9 oz bottle. It comes out thicker and requires friction. I recommend not rubbing the fabric against itself but rather use a laundry brush because the stain will transfer.
Scrubbing Bubbles Foaming Bathroom Cleaner
It may not be the best green option, but when you are exhausted and need it cleaned right and fast this is the choice. The price is slightly higher than the other cleaners like Lysol and Clorox but you only have to use it once. Your bathroom will sparkle like the commercial.
Libman Freedom Mop
This is perfect for a Red Housewife follower. It allows you to make your own cleaning solution to mop with. This makes the Swiffer WetJet look ridiculous. Why pay for refills of a solution that doesn't really do the job and pads that are wasteful when you can have a machine washable pad with the cleaning solution of your choice. I love this mop. The cost was about $20 at Target. I only paid it once. The Swiffer will cost you another $5 for the pads and $8 for the solution. The mop is only about $11. You re-buy the mop every time you need a refill.
Palmolive Eco Dishwasher Gel
For about $2 a bottle it was a bargain. I compared it to Cascade and found the results to be equal. It should be stated that I rinse my dishes before they go into the sink. Even if they sit for days, there isn't much stuck on food for the washer to clean. I have left a plate with dried on pasta sauce to test the Palmolive and it came out clean and shiny.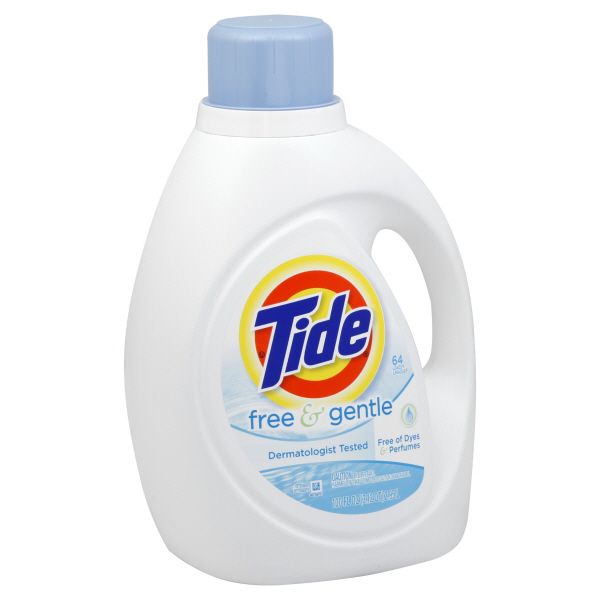 Tide Free & Gentle
I always have a coupon because I buy Pampers by the box. It costs me about $7 a bottle whereas the Cheer costs $10. It cleans better the first time. My clothes are soft and clean. They don't feel stripped. I have not tried the HE version. Together with the Dreft I have my laundry done in half the time.